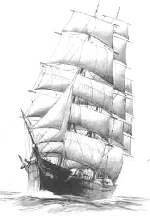 What is it which causes one to leave their native land and migrate elsewhere, to change centuries of tradition and life-styles? Religious Persecution, starvation, tyranny, all of these stirred persons to immigrate to America. But are you aware of how your ancestors played a pivotal part in history? These articles feature families never written about, yet who made history!
Saturday, April 7, 2012
Richard Vaughan
Education was of concern to the early colonists and great care was taken for the education of children, and even servants! Richard Vaughan of Northampton County, Virginia bequeathed in 1654 his entire estate to a family of blacks, probably his slaves, with the instructions to his executors that its younger members should all be taught to read. Source: Northampton County Records, vol. 1654-55, page 102.