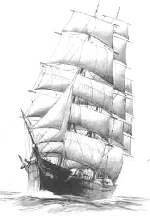 What is it which causes one to leave their native land and migrate elsewhere, to change centuries of tradition and life-styles? Religious Persecution, starvation, tyranny, all of these stirred persons to immigrate to America. But are you aware of how your ancestors played a pivotal part in history? These articles feature families never written about, yet who made history!
Tuesday, April 10, 2012
William Robinson, Quaker
The first Quaker missionary to arrive in Virginia in 1656 was Elizabeth Harris of London where she had some success in raising converts. She remained in Virginia about a year and after she departed, continued her work by writing letters and sending numerous books to those disposed to adopt the doctrines of her sect. The religion suffered the consequences of the Anglican Churches whose complaints succeeded in having missionaries imprisoned as in the case of William Robinson who held conventicles in priviate houses. He spent fourteen months in the colony spreading the doctrine and did not stop until he had visited all parts of the colony. His extreme boldness caused him to spend at least six of the fourteen months in jail. Later, when he went to New England, his fearless persistency caused him to be hanged on the gallows.. Sources: Weeks, pp. 13, 14; Neill's Va. Carolorum, p. 285..