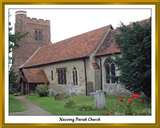 Nazing Church
The Camp family of Essex County, England began with Thomas Campe, Roydon, yeoman who died in Essex. Richard Campe, eldest son, of Epping, was bequeathed the meadows in Nazing, marshland, etc.. The church at Nazing records the births of his children. The Camps are probably the most prolific families in America. One (Thomas Camp) of Mashbury, England apparently came to Jamestown at an early date and removed to King and Queen County, Virginia where he died. He was married in Jamestown to a daughter of Andrew Barron.
Another
Thomas Camp of Orange County, Virginia traces his descendants into North Carolina, then to practically every State. In Rutherfordton, North Carolina, that Thomas Camp fought in the Revolutionary War, as well as all of his sons. The genealogy is extensive and is available to members of
Virginia Pioneers
.
Follow us by email
Find your Ancestors!
Georgia Pioneers
Kentucky Pioneers
North Carolina Pioneers
South Carolina Pioneers
Virginia Pioneers
BARGAIN! Upgrade to 6 genealogy websites for 18 months (at same rate as 12 months)

Special Upgrade Bargain this month for Bloggers. Subscribe to 6 genealogy websites and get 18 months for $150 (rather than 12 months).
Click here to take advantage