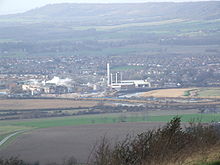 Snodland in Kent. A view of the Medway Gap Snodland, the Horseshoe reach meander of River Medway and the paper mills in front, and the North Downs on the other side of the gap at Trottiscliffe. The Tilghman genealogy dates back to ca 1275 and is extensively traced on
Virginia Pioneers
Members of the families were found in Faversham, county Kent, in England. The immigrant to Virginia was Roger Tillman from Kent who married in Prince George County, Virginia. Marriages were in the famous Abernathy, Wynne and Dixon families.
Follow us by email
Find your Ancestors!
Georgia Pioneers
Kentucky Pioneers
North Carolina Pioneers
South Carolina Pioneers
Virginia Pioneers
BARGAIN! Upgrade to 6 genealogy websites for 18 months (at same rate as 12 months)

Special Upgrade Bargain this month for Bloggers. Subscribe to 6 genealogy websites and get 18 months for $150 (rather than 12 months).
Click here to take advantage